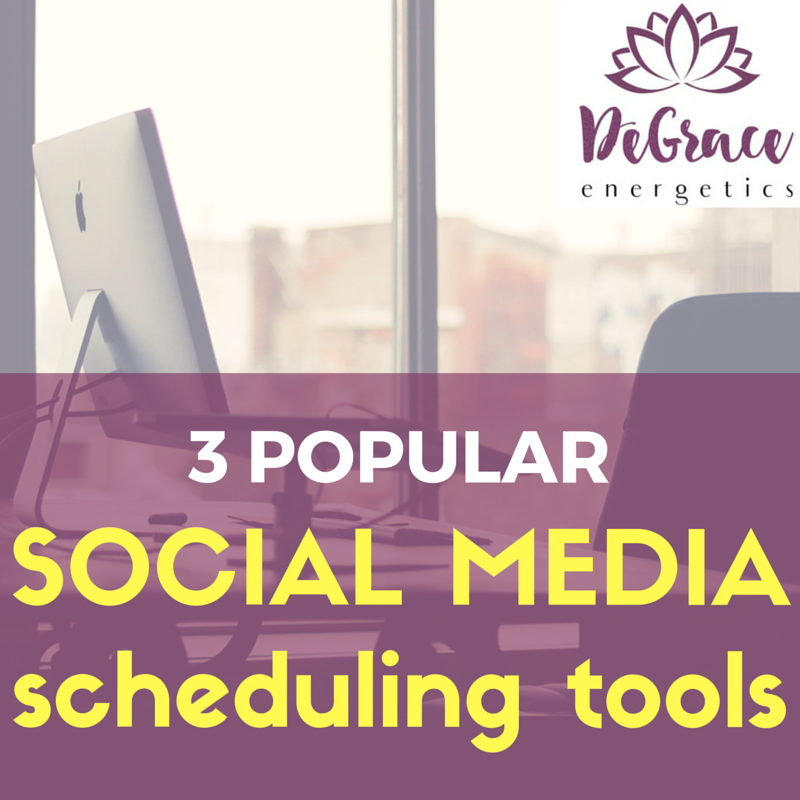 In order to set up, launch and run an effective social media campaign you need to be able to effectively manage all of your social networks, including scheduled posts and analytics. Social media platforms help you network, promote and share your content with your audience, but tools that combine scheduling and analytics make social sharing easier and less time consuming – they are a one stop shop for social media!
With that in mind here are a three social media scheduling platforms that enable a user to share to multiple networks at the same time, and for the most part are user-friendly and cost-effective.
Buffer
Buffer started out as a social media tool that allowed users to schedule Tweets and Facebook updates, but it has since grown to include LinkedIn and Pinterest. You can post to your Facebook Page, personal profile or Facebook Group through Buffer. It's easy to use and the free version offers simple analytics such as 'most popular post' and click through rates. Buffer is a perfect tool if you are just looking for something to schedule social media posts ahead of time.
Adding images and video is also easy with Buffer, and if you want to schedule a post quickly, Buffer offers pre-set time slots so you can simply type in your update and schedule. They also recently added an extension called "Pablo" that allows you to create and edit quotable images from within the app. Buffer is free up to a certain amount of accounts and posts per month, but the paid version gives you access to detailed analytic information and reporting.
Hootsuite
Hootsuite is one of the most known social media management tools available. Whether you are scheduling to Facebook, Twitter, LinkedIn or YouTube, Hootsuite's dashboard can execute them all. Hootsuite also offers tracking conversations and measures campaign results.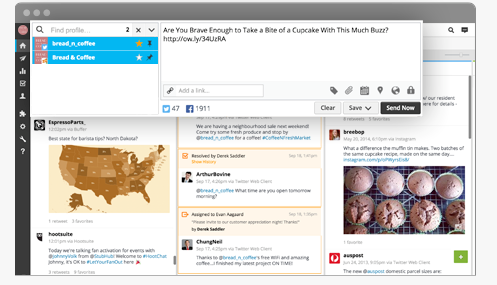 There is a free version of Hootsuite, but the pro and enterprise versions offer much more analytic information and advanced message scheduling. Hootsuite is a complete social media management tool, including offering an auto scheduling tool that automatically designates a scheduling time based on a best-projected time. You can also bulk schedule updates too – a complete time saver.
Sprout Social
Known to be a more robust social media management tool, Sprout Social is used by small to large businesses as well as digital marketing agencies. Sprout Social gives users the ability to build and maintain their online communities easily by offering unique social products such as "social customer care" that allows community managers to answer social media requests in a timely manner. At the same time Sprout Social also has intuitive and user-friendly social media monitoring and scheduling tools for all social channels.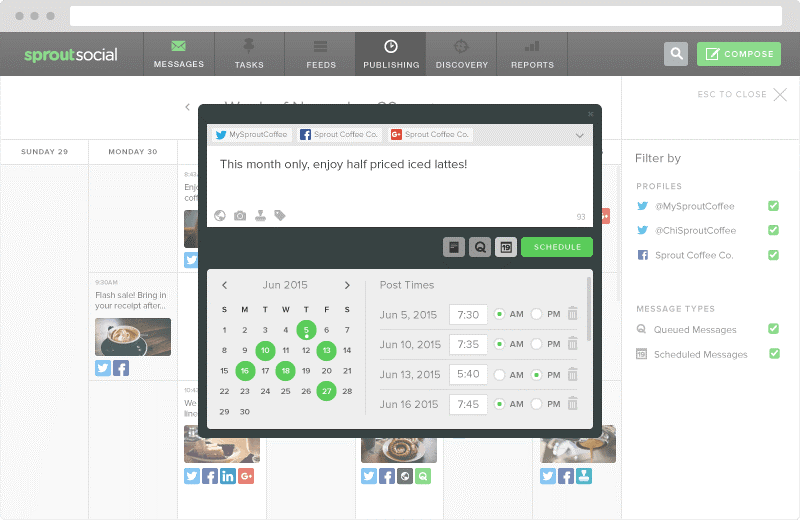 Sprout Social is a paid platform, but it has more sophisticated analytics and reports for all social media plans. It is a perfect social media management tool for teams or for someone who is responsible for multiple accounts on one social network.
When choosing a social media scheduling tool for your business, take a look at what you will be using it for, what you need it to do and what social media networks you need it to both schedule and report on.
Do you use a social media scheduling tool? If so, which one and what are your pros and cons?